工具 app
商業 app
IBM Notes Traveler|不限時間玩工具App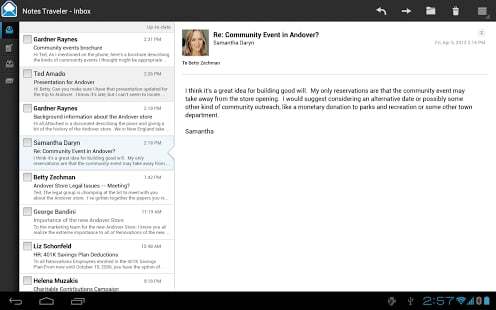 IBM Notes Traveler provides automatic, two-way, over-the-air syncing of IBM Notes and Domino data with a wide range of mobile devices. IBM Notes Traveler includes a server component deployed in your company intranet or the IBM SmartCloud. This IBM Notes Traveler client for Android provides access to mail, calendar, contacts, and To Dos on your Android phone or tablet.
IBM Notes Traveler features include:
•Mail
•Read, compose, reply, forward, and file
•Compose and read encrypted and signed mail
•Manage folders
•Widgets for your home screens
•Calendar
•Agenda, day, week, and month views
•Manage invitations, meetings, appointments, all day events, anniversaries, and reminders
•Widgets for your home screens
•Contacts
•View Notes address book contacts
•Share contacts with the Android OS contacts app
•Lookup contacts from the server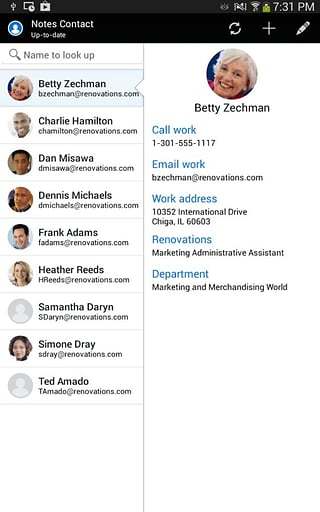 •To Dos*
•View by due date, priority, and completion status
•Create custom categories
•Widgets for your home screens
•Configure how much data to sync and how often
•Use SMS notification to save battery life
•Security policy management
•Offline support
•Data stored on the device is encrypted
This app is compatible with IBM Notes Traveler server version 8.5.3.3 and later fixpacks, as well as 8.5.3 Upgrade Pack 1, 8.5.3 Upgrade Pack 2, and 9.x. To get started, contact your administrator for your account and company configuration information.
*Note: IBM Notes Traveler version 8.5.3 Update Pack 2 or later is required for To Do support.
If you're interested in using this application with IBM SmartCloud, see this URL http://www.ibm.com/cloud-computing/social/us/en/ for further information.
If you do not have IBM Notes Traveler deployed in your company, but want to try it out for free, register an account on IBM Greenhouse, a free IBM product trial site: http://greenhouse.lotus.com, then follow the instructions to configure your IBM Notes Traveler account: https://greenhouse.lotus.com/wpsgh/wcm/connect/ghcontent/lotus+greenhouse+next+site/home/products/ibm+notes+traveler. It is that simple to get started!
If you are an end user and experiencing a problem, please contact your company IT help desk. If you are a IBM Notes Traveler administrator experiencing a problem, please open a PMR with your IBM customer number. In addition to rating the app, you can tell us what we have done right or what we can do better by emailing IBM mobile software engineering directly at [email protected]
For more information about IBM Notes Traveler, go to the official product website: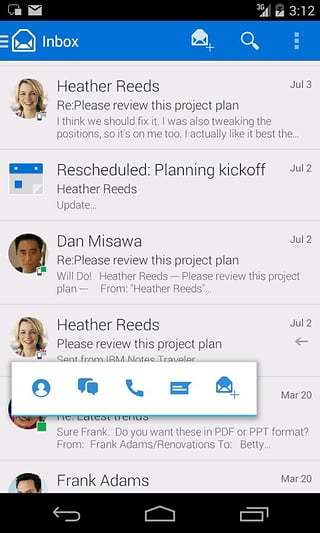 http://www-10.lotus.com/ldd/dominowiki.nsf/xpDocViewer.xsp?lookupName=Using+IBM+Notes+Traveler+9#action=openDocument&res_title=Using_an_Android_device_FAQ_U9&content=pdcontent
IBM Notes Traveler提供自动,双向,过空中同步的IBM Notes和Domino的数据与各种移动设备。 IBM Notes Traveler的包括部署在公司内部网或IBM的SmartCloud服务器组件。这个IBM Notes Traveler客户端为Android提供了访问电子邮件,日历,联系人和待办事项在您的Andr​​oid手机或平板电脑。
IBM Notes Traveler的功能包括:
与公牛;邮件
  及牛;阅读,撰写,回复,转发和文件
  及牛,撰写和阅读加密和签名的邮件
  及牛;管理文件夹
  及牛,小部件为您的主屏幕
与公牛;日历
  及牛;议程,日,周和月视图
  及牛;管理邀请,会议,约会,全日事件,纪念日,并提醒
  及牛,小部件为您的主屏幕
与公牛;联系
  及牛;查看Notes地址簿中的联系人
  及牛,与Android操作系统的应用程序的联系人共享联系人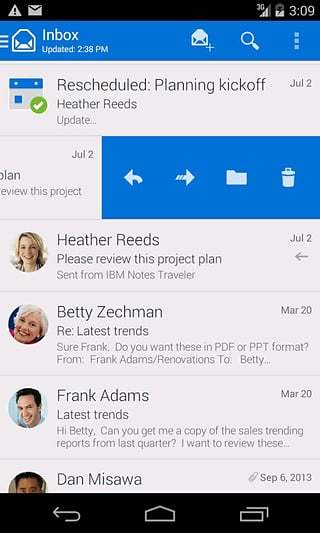 及牛;查找从服务器联系
与公牛;待办事项*
  及牛,看到期日,优先级和完成状态
  及牛,创建自定义类别
  及牛,小部件为您的主屏幕
与公牛;配置多少数据同步和频率
•使用短信通知,以节省电池寿命
与公牛;安全策略管理
与公牛;离线支持
和公牛;存储在设备上的数据进行加密
这个应用程序是IBM Notes Traveler服务器版本8.5.3.3及更高版本补丁包,以及8.5.3升级包1,8.5.3升级包2,和9.x系统兼容要开始使用,请与您的管理员帐户和公司的配置信息。
*注:IBM Notes Traveler的版本8.5.3更新Pack 2或更高版本的做支撑。
如果您有兴趣使用该应用程序与IBM的SmartCloud,看到这个网址http://www.ibm.com/cloud-computing/social/us/en/了解更多信息。
如果你没有IBM的Notes Traveler的部署在你的公司,但想要尝试一下免费的,注册在IBM温室,免费的IBM产品试用网站的帐户:http://greenhouse.lotus.com,然后按照说明配置您的IBM Notes Traveler帐户: https://greenhouse.lotus.com/wpsgh/wcm/connect/ghcontent/lotus+greenhouse+next+site/home/products/ibm+notes+traveler.就是这么简单上手!
如果您是最终用户,并遇到了问题,请联系您公司的IT帮助台。如果您是IBM的Notes Traveler管理员遇到问题,请与您的IBM客户号码开PMR。除了等级的应用程序,你可以告诉我们什么,我们做对了还是我们能做些什么直接的[email protected]电子邮件的IBM移动软件工程更好。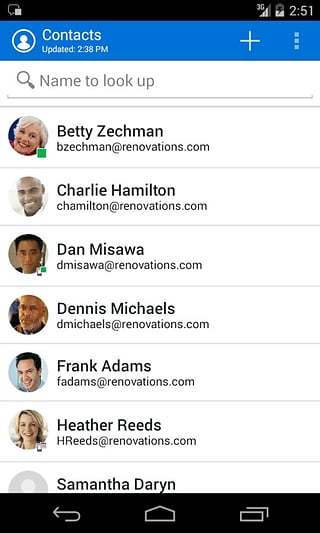 如需了解有关IBM Notes Traveler的更多信息,请访问官方产品网站:
http://www-10.lotus.com/ldd/dominowiki.nsf/xpDocViewer.xsp?lookupName=Using+IBM+Notes+Traveler+9#action=openDocument&res_title=Using_an_Android_device_FAQ_U9&content=pdcontent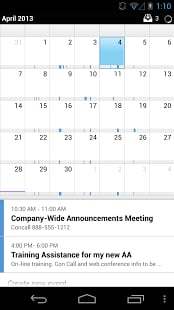 IBM Notes Traveler 線上APP手遊玩免費
不限時間玩IBM Notes Traveler App免費
App國家分佈
App支援系統
App上架版本
費用
評價App
上架時間
更新時間
台灣 Taiwan
Android
Google Play
9.0.1.1
下載 App
免費

7.0

2014-07-18
2015-10-19
未知
Android
Google Play
V9.2.0.0 201510301750
下載 App
免費

6.0

1970-01-01
2015-11-24